Alex Thomson inspires pupils to never give up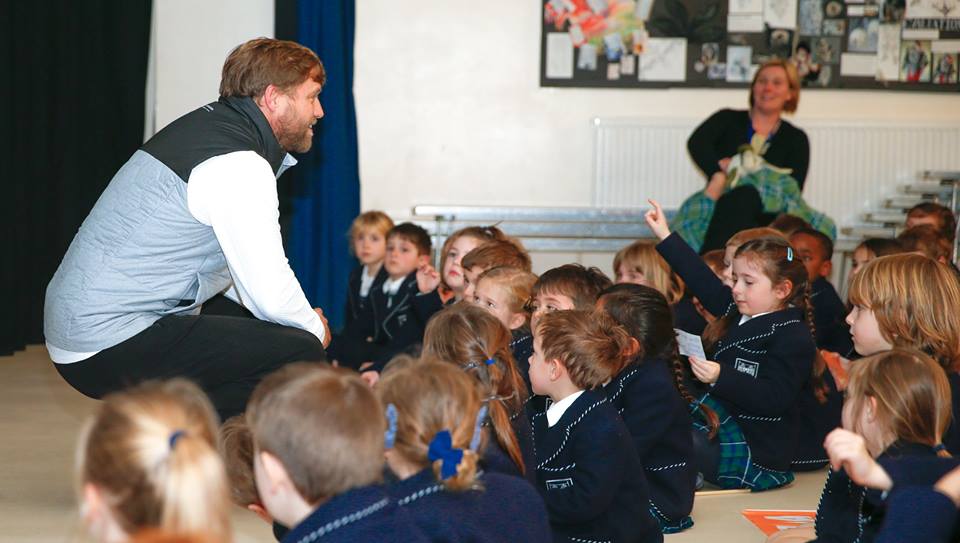 Pupils were treated to a very special afternoon when Alex Thomson, Vendee Globe round-the-world sailor, came to talk to the Lower School about trying our hardest, and the Upper School about overcoming challenges, as he shared stories from his round the world solo race – the Vendee Globe 2016-17.
The Vendee Globe is arguably the hardest and most solitary challenge on earth, and over 50% of competitors drop out of the race before the finish line. Having led for some distance, Alex finished a very close second this year, after a foil broke on his boat, slowing his journey by 30%. It didn't stop him from breaking the record for the most miles covered in a 24 hour period!
Pupils in the Lower School were delighted to be reunited with Speedy, the sea turtle school mascot who travelled in the Hugo Boss yacht with Alex during the race. Alex kept the children up to date with Speedy's adventures by regular videos and they learned about what Alex eats and how often he sleeps as he races non stop. Whilst he was away, Speedy gained a turtle friend, who Alex gave to the infant children for safe keeping.
The Upper School were treated to the story of legendary sailor Yves parlier, who rebuilt his broken mast during the Vendee Globe 2001, but who didn't give up, fixed his mast by himself and overcame adversity to finish the race. There were many questions as pupils were keen to learn how Alex got into sailing and how did he cope being on his own for 75 days.
The day finished with Alex hosting a very entertaining 'Big Quiz Night' for parents and staff of Meoncross, to fundraise for The Alex Wardle Foundation and The Portsmouth Sailing Trust. A fish and chip supper and the big raffle prize of an Alex Thomson Racing jacket helped to boost funds raised for these worthy charities.
Published on: 6th March 2017